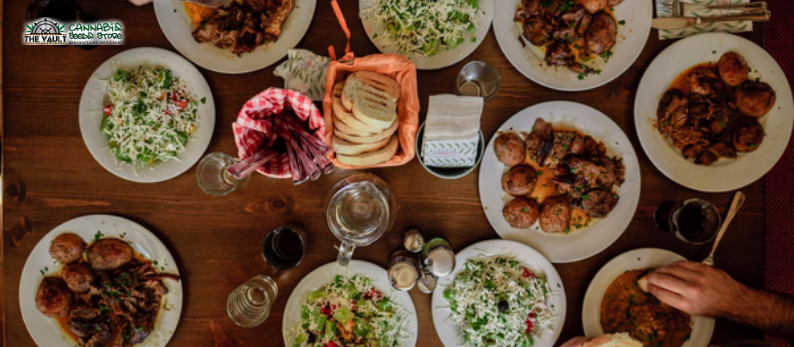 One of the most commonly known side effects of smoking weed is the famous munchies. Many of us may think of the munchies as something that calls for huge bags of cheese puffs, burritos, chocolate etc. However, for some, it's the perfect time to explore the vast and exciting world of food. I was always a fan of enjoying a smoke and then choosing an exciting new restaurant to visit. Whether that be saving up for something extravagant or just ordering takeout that I hadn't tried before. This is a list of strains for the foodies, and for anyone who just wants to get the most out of food.
Critical Kush
This Indica dominant strain is known for being extremely relaxing and powerful. It also really kickstarts the appetite in a way that sets the taste buds on fire. Critical Kush is an Indica dominant combination of Critical Mass and OG Kush. This means it gives impressive yields of extremely powerful buds. The THC level of this strain usually sits at around 25% so for most this is probably an order in rather than go out strain. This strain is easy to grow and ideal for beginners. When the plant matures the buds become extremely dense and completely covered in THC crystals. It has a flowering time of 55 – 60 days and can be grown indoors, outdoors or in a greenhouse.
Lavender
Lavender gets its name from the beautiful colouration of its pistils as well as the extremely relaxing effect of the strain. The scent is a combination of lavender, rosemary and mint which is conducive to the appetite-stimulating effect. This is another great strain for an evening in but maybe with something delicious and home-cooked with a partner or friend. Ideal for relaxing and luxuriating in something cream and flavour heavy. Lavender is also a great strain for anyone who's had a hectic week, suffers from general stress or anxiety, or has sleep issues. This particular version is autoflowering and has a flowering time of 63 – 70 days. Lavender can be grown indoors, outdoors or in a greenhouse.
Gigabud
Gigabud is usually used medicinally by those who suffer from severe stomach issues, complete loss of appetite or chronic nausea. She is famous for promoting a ravenous appetite, perfect for really enjoying food. Gigabud will give anyone the appetite for a four-course meal, canapes, a cheese course and pretty much anything else that's in the cupboards. The other effects are calming and relaxing as well as long-lasting. Maybe not a great restaurant strain unless you have an impressive budget. This strain is perfect for medicinal users who struggle with appetite, stress, insomnia, anxiety or depression. Gigabud has a flowering time of 5 – 6 weeks and can be grown indoors, outdoors or in a greenhouse.
Northern Soul
This is a perfect evening out strain, whether it be comfortable street food or something a little fancier or more exotic. The high improves appetite whilst also being happy, uplifting and relaxing. It is an excellent balance of Sativa and Indica, meaning it has enough energy to it for outdoor use. It is a cross between two fantastic strains, Northern Lights and Skunk #1. This means she has fantastic genetics to rely on, providing amazing flavours and the perfect high to enjoy a quiet dinner with a loved one. Northern Soul has a unique taste and flavour along with a thick coating of resin crystals. She has a slightly longer flowering time of 9 – 10 weeks, but is well worth the wait, and can be grown indoors, outdoors or in a greenhouse.
Critical Sour
Critical Sour is another strain that is often used by those suffering from nausea or loss of appetite. She has a full body relaxing effect that allows smokers to lie back and indulge in delicious but unhealthy food. This strain is one for creamy sauces, buttery vegetables and melted cheese. Critical Sour is another easy to grow strain that thrives outside. She is also perfect for anyone suffering from anxiety, stress, depression or insomnia. It has a fruity, earthy and spicy scent and flavour along with an instant full-body high. Her flowering time is 56 – 63 days and can grow indoors or outdoors.
Jack Herer
Jack Herer is a strain that we hear a lot from because she can do almost anything. Named for the cannabis activist and author, this strain is something completely different and very special. The high is cerebral, long-lasting, and physical with a decent helping of the munchies. She is medicinally used for pain relief and appetite stimulation. This is a good strain for eating something flavoursome with a variety of tastes and textures, an excellent savouring strain. Jack Herer has won a variety of awards for her fantastic flavours, effects and potency. This strain will usually sit at around 20.94% so shouldn't be taken too lightly. Jack Herer was created by combining Haze and Red Skunk, two wonderful strains that passed on the best parts of their genetics. This strain has a flowering time of 8 weeks and can be grown indoors, outdoors or in a greenhouse.
Afghan Kush
Finally our cross between Afghan and LA Kush, the very popular Afghan Kush. She produces huge amounts of THC that usually sits between 15 and 20%. For anyone who's not ready she can produce some serious couch-lock. However, if she is used carefully, she is the perfect accompaniment to a delicious meal. She is often used by those who are suffering from a reduced appetite as well as those struggling with sleep issues and stress. Overall the effect is very soporific and relaxing, so goes well with a foodie evening in maybe with a film and a comfortable couch. Afghan Kush is also superb for indulging in an unhealthy takeaway. This strain is a high yielder and will produce between 500 – 800 g depending on where she is grown. She has a flowering time of around 55 – 60 days and can be grown indoors or outdoors.
Remember: It is illegal to germinate cannabis seeds in many countries including the UK. It is our duty to inform you of this fact and to urge you to obey all of your local laws to the letter. The Vault only ever sells or sends out seeds for souvenir, collection or novelty purposes.
Make sure you never miss another Vault promo and sign up for our newsletter at http://goo.gl/Bt2Ba2