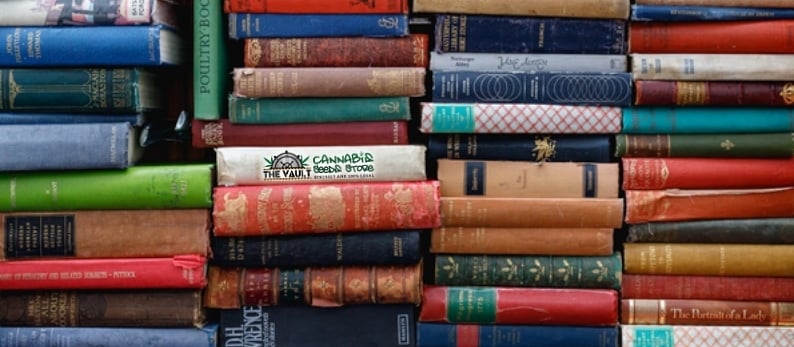 This listicle is for all the readers out there, those that enjoy cannabis on a physical and an intellectual level. Cannabis has a long and fascinating history whilst also completely altering the medical field as we know it. It has influenced historical figures, the rise and fall of civilisations, it has been used in wars and politics all over the world. Cannabis is not just a fantastic plant, medicinally and recreationally, but an extremely important part of human history. For the growers, it is impossible to know too much about cannabis as a plant. Botanically it is unlike any other and has been the point of scientific study for decades. These are just a few must-read books for anyone who wants to learn about the rich history and future of cannabis.
Grass Roots: The Rise and Fall of Cannabis In America
This book by the marvellous Emily Dufton covers everything we need to know about the history of cannabis in the US. The United States has a conflicted and complex history with weed that spans generation after generation. In this book, Dufton focuses on the legacy of cannabis in a way that few other historians ever have. She discusses the war on drugs from the view of the private citizen, especially towards parents who actively and publicly oppose the legalisation of cannabis. She considers how the pro-cannabis movements in the 70s may have mobilised a significantly more aggressive anti-cannabis programme using Nancy Ragan and essentially creating the war on drugs. I won't give away too much more but this is certainly a book that every history buff should read.
The Cannabis Health Index: Combining the Science of Medical Marijuana with Mindfulness
For those who are titillated by the health and medical benefits of cannabis, this may be the book for you. This book, by medical writer Uwe Belsching, is an easily understandable overview of the miracles being worked by cannabis in the medical field. It makes clear to the lamen the vital role that cannabis can play in our emotional and physical wellbeing. Many have said that The Cannabis Health Index does a marvellous job of clarifying complex medical information and making it more accessible to the general public. This considers the treatment of the whole rather than simply what cannabis can do for those who are suffering from medical conditions. Cannabis is not just therapeutic for those with issues, but for everyone. An excellent read that allows us to truly consider the beneficial role cannabis can play in day to day life with the bonus of fascinating medical and scientific content.
The Emperor Wears No Clothes
I almost struggled to put this book third on the list as it is one of the most formative and fascinating cannabis books on the market. Written by famous pro-cannabis activist Jack Herer, who many of you may know from the excellent strain named after him, this book covers everything we need to know about cannabis and its effect on our planet. Jack Herer looks not just at cannabis as a drug but also as hemp and it's many other uses. The title of the book is a scathing allegory for the war on drugs and the current social and legal prohibition of cannabis. For those who are politically interested in cannabis and want to learn more about the corrupt aspects of its illegality, this book is perfect. It also goes in-depth into the good that cannabis could do for our planet were it reintroduced as a norm into society.
The Marijuana Grower's Handbook
Now something for the avid growers out there, one of the most popular handbooks on the market. The Marijuana Grower's Handbook was written by Ed Rosenthal a Californian horticulturalist that has written several informational books for growing cannabis. This fantastic book is perfect for all levels of grower and contains all of the latest information on growing techniques, the best equipment and numerous tips and tricks for fantastic crops. Its reviews are fantastic and many consider it to be the only book a grower needs on their shelf. This book covers an incredible amount of information and I challenge even the most experienced grower to read it without learning something new.
Bong Appetit: Mastering The Art of Cooking With Weed
For cannabis chefs, this book is considered the best weed cookbook around. The book is based on a television series, that is also a fascinating watch, and contains a wide variety of recipes. Anyone who has read my Cooking with Cannabis series will know that I am a huge fan of varied and fascinating ways to use weed in cooking. Bong Appetit is not only bursting with fantastic sweet and savoury recipes, it goes in-depth about the art of cannabis infusing. This means that anyone a little more advanced in cannabis cooking can use this information to create their own incredible recipes. Another fantastic aspect is that the book contains full meal recipes, from starters to deserts meaning enthusiasts can throw full 5-star cannabis dinner parties. Much like Mastering the Art of French Cooking, this is a book that should be on the shelf in every kitchen.
Cannabis: A History
Finally, a book that is perfect for anyone who is generally fascinated by the history of cannabis. Martin Booth, a British novelist, has written many books on the history of various drugs. This tome considers the many historical aspects of cannabis from the societal fear and stigma, to recreational use through the ages, to its consistently impressive use in the medical field. This history stretches from the Neolithic period to the present day and covers a surprising amount of information for one book. It looks into everything from law enforcement, drug gangs and smugglers to artists, writers, hippies and musicians. It considers how laws have evolved, how medicinal research has changed social views on cannabis and countless other fascinating aspects of this amazing plant. If anyone just wants to understand cannabis and our connection with it throughout history, this is the book.
Remember: It is illegal to germinate cannabis seeds in many countries including the UK. It is our duty to inform you of this fact and to urge you to obey all of your local laws to the letter. The Vault only ever sells or sends out seeds for souvenir, collection or novelty purposes.
Make sure you never miss another Vault promo and sign up for our newsletter at http://goo.gl/Bt2Ba2