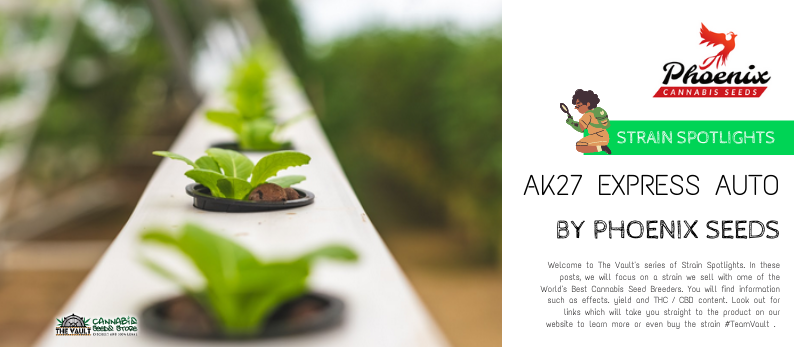 Name: AK27 Express AUTO Feminised Seeds
Breeder: Phoenix Cannabis Seeds
THC Content: High
Effects: Uplifting, Relaxing, Mellow
Yield: Medium
Flavour: Earthy, Sweet, Floral
For anyone out there who wants something fast, productive and highly potent look no further than AK27 Express Auto Feminised Seeds. This strain was created by Phoenix Cannabis Seeds from a fantastic variety of genetics. In this strain spotlight, we will have a look at Phoenix Cannabis Seeds' AK27 Express Auto Feminised Seeds. The perfect strain for the impatient grower.
Background
AK27 Express Auto Feminised Seeds were created by combining AK47 with a fast flowering Ruderalis strain. AK47 is famous for its own genetic background which combines a number of landrace strains. It is a combination of Colombian, Afghani, Thai and Mexican varieties resulting in a beautifully complex combination of flavours, effects and scents. All of this has been passed on to this fast flowering version that provides an incredible result in no time at all.
Effect
The parent is also known for its effects which combine every classic stoned feeling from mellow relaxation to an uplifting and social mind space. This makes it a wonderful recreational strain of course, perfect for socialising, enjoying a film or getting creative. It also makes it a perfect strain for medicinal users. For anyone who suffers from stress, depression, insomnia, pain and a host of other issues, this is the strain. It is also just recreationally suited to those who are prone to anxiety when smoking weed.
Flowering and Yield
We come to one of the most celebrated aspects of this plant, the flowering. This strain is an express autoflowering plant which means it will be ready to harvest much faster than your average crop. It is still a good idea to leave these plants for as long as is possible before harvesting, but they can be ready in as little as 7 weeks. They may take a little second to kick-off but then they explode like fireworks. Since the plant is autoflowering it won't require a light cycle in order to flower, which can be helpful for beginner growers. AK27 Express growers well in a variety of environments but is especially well suited to Screen Of Green growing. Usually, the plants will reach around 60 – 100cm and produces a good yield.
Flavour, Scent and Appearance
This is an interesting one because the scent of the plant is extremely strong and a little sour. Conversely, the flavour of the strain is sweet and earthy with a lovely floral tone behind it. It nicely balances the mellow effect of the strain and creates a delightful smoking experience. Visually these plants are stunning, especially once they really get going. They have emerald green leaves and large dense buds covered in a thick layer of resin. They almost look like a snow-covered pine tree, a really great addition to any garden.
Would you like to add some AK27 Express AUTO Feminised Seeds to your collection?
If you'd like to add some of these powerful seeds to your collection, The Vault is giving away an amazing 15% discount off AK27 Express AUTO Feminised, when you enter the code: RRA15 in the cart!
Remember: It's illegal to germinate cannabis seeds in many countries. It is our duty to inform you of this important fact and to urge you to obey all of your local laws. The Vault only ever sells or sends out seeds for souvenir, collection or novelty purposes. All of our content is provided for educational purposes only.
Make sure you never miss another Vault promo and sign up for our newsletter at http://goo.gl/Bt2Ba2